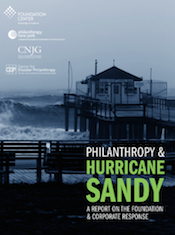 This new report from CNJG and partners examines the response of foundations, corporations, and other institutional donors to the devastation wrought by Hurricane Sandy in October 2012. Numbering nearly 600, these funders have so far committed more than $380 million for relief, recovery and building efforts. The hard data and reflective observations in the report contribute to the growing body of knowledge that helps foundations and corporations be strategic and effective with their giving when disaster strikes.
Two years after the historic storm, Philanthropy & Hurricane Sandy: A Report on the Foundation & Corporate Response breaks down the allocation of dollars contributed thus far and offers perspective on the role of private giving in disaster response and lessons to be taken from this one. The report was published by the Foundation Center in partnership with the Council of New Jersey Grantmakers and Philanthropy New York, and with support from the Center for Disaster Philanthropy.
"Throughout the past two years, our exceptional nonprofit and funder community has taken on challenges they never imagined," said Nina Stack, president of the Council of New Jersey Grantmakers. "These organizations continue to develop innovative solutions that other communities will learn from and build upon in future disasters."
In addition to the report's numerous funders, CNJG wishes to thank the PSEG Foundation for supporting this project.