New Jersey's philanthropic and nonprofit sectors are in the forefront of helping communities respond and recover from the worst health and economic crisis of our lifetime.
On these pages, CNJG offers resources to help our members get the knowledge and information needed to be the most effective possible grantmakers.
CNJG is helping to track New Jersey philanthropy's pandemic response through our "Get on the Map" campaign partnership with Candid, which launched a coronavirus map in response to funders' requests. As you can see, the information collected is not complete, so please help. Visit our Share Your Giving Data webpage for information about how to share your COVID-19 grants data.
Sharing information with other funders is critical to informing philanthropy in the weeks and months ahead. Knowing where money is going, and how — and having the latest information — facilitates thoughtful collaboration and decision-making in times of crisis.
---
CNJG Response
Communications
CNJG created a Coronavirus Response webpage and listserve for the COVID-19 Response
Email to Members: NJ Philanthropic Response to COVID-19 (March 13)
Email to Members: Working Remotely Ensuring Service to Members (March 17)
CNJG participated in: Creative NJ Statewide Conversations - NJ's Philanthropic Response (April 8)
CNJG Member Query: COVID-19 Rapid Response Funds
CNJG asked their members to share your grants data to update the coronavirus map and track philanthropy's response to the coronavirus pandemic.
CNJG Member Query: Grant Approval Templates Related to COVID-19
CNJG signed onto letter calling on philanthropy to act to curb bias attacks as virus spreads.
CNJG created a FAQ page about philanthropy's COVID response.
NJ COVID-19 Response and Recovery Funds Learning Community
The NJ COVID-19 Response and Recovery Funds Learning Community helps grantmakers involved in special purpose COVID 19 funds get timely updates on what is happening on the ground, share information about what and where services and help are needed most, and explore strategies for the most effective grantmaking investments. Designed around the Center for Disaster Philanthropy's key principles of grantmaking -- resilience, equity, sustainability, and civic participation -- the Learning Community is committed to holding the difficult conversations about how philanthropy can best respond to community needs and help those who need it most.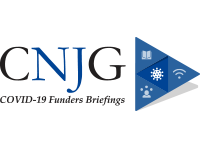 CNJG hosts regular briefings where funders hear from government officials, disaster recovery and health experts, nonprofit leaders, funders, and other stakeholders dealing with the COVID-19 pandemic. The briefings provide an opportunity to share how colleagues are changing grantmaking practices for rapid response, learn about new policies and government actions, and connect with local leaders who work with people whose financial, physical, and mental health suffers due to COVID-19. Series I topics included food insecurity, mapping response funding, racial health disparities, federal and state policy, and updates from New Jersey response funds and Rapid Response Surveys, completed in partnership with the Center for Non-Profits in March, April, and July 2020.
In order to dig deeper into the impact of the pandemic on certain communities and stay connected during this difficult time, CNJG worked with our affinity group chairs and other members to develop programming that supplemented our COVID-19 Funders Briefing Series and Newark COVID-19 Series. These virtual affinity and interest group meetings were designed for colleagues to update each other on coronavirus response efforts, hear about the greatest needs in their funding area, and share what they have learned. 
---
News articles showing members philanthropic responses to the coronavirus pandemic which include announcements, emails, blogs, grants given and other resources gathered by and for our members.
---
A list of all of the response funds that foundations and philanthropic organizations have set up to help local communities, residents, non-profits, and businesses throughout New Jersey and news of the grants being awarded by each fund.
---
Resources gathered from our colleagues at other philanthropy-serving organizations, state associations of nonprofits, and city, state and federal governments.
---
Some of the top COVID-19 news stories, centrally located for easy access.
CNJG provides this information free to the philanthropic community. If you are not a CNJG member, please join so you can take full advantage of the many benefits of membership and help underwrite the cost of services like this.