Responding Post Sandy: Philanthropic Relief & Recovery
Superstorm Sandy officially came ashore in New Jersey on October 29, 2012 at 8:00 p.m. and its aftermath continues to be felt in communities throughout our state. Not 24 hours after the storm made landfall, CNJG began planning a series of actions to help inform funders what to be prepared for, share information and discuss strategies. CNJG's support of the philanthropic community as it navigates the shifting landscape of disaster recovery, continues.
CNJG has been working closely with their philanthropic members in New Jersey and their philanthropic colleagues from around the nation who have experience in disaster philanthropy, as well as working cooperatively with the Governor's Office on Recovery, FEMA, NJ State Police Office of Emergency Management, NJ Voluntary Organizations Active in Disaster, NJ's Long Term Recovery Group Leaders, and NJ's leading nonprofit organizations. 
Post Sandy Funder Briefings
Beginning one week after Sandy struck New Jersey CNJG launched a weekly conference call series for grantmakers to hear from policymakers, disaster relief/recovery experts and colleagues who have been through similar catastrophes. Grantmakers heard from nearly 70 guest speakers including policymakers, disaster relief and recovery experts, and statewide and national foundation leaders that have experienced similar catastrophes. The briefings provided an opportunity to connect directly with local leaders and state officials addressing the many needs of our communities. Grantmakers learned about issues related to both disasters in general and Sandy recovery in particular. Topics included housing, mental health, social justice, universal design, FEMA's National Disaster Recovery Framework, and an array of environmental issues. All of the calls were recorded and also transcribed into concise written summaries and are available on our website.
Series 1 ran from November 2012 -- March 2013
Series 1 Audio Recordings
Series 1 Written Summaries
Series 2 ran from September 2013 -- November 2013
Series 2 Audio Recordings
Series 2 Written Summaries
Series 1 & 2 Written Compendium
---
Funders' Briefing Post Sandy Recovery at 18 months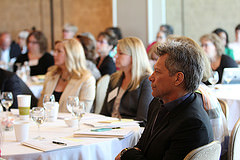 With support from the Jon Bon Jovi Soul Foundation and OceanFirst Foundation, CNJG presented a specific briefing on housing, hunger and mental health recovery efforts and needs 18 months after the storm. We heard personal stories from families that were displaced and their long struggle to rebuild and recoup. We heard insights from service providers on the long term effects of Sandy. Several Long Term Recovery Groups described some of their ongoing challenges, but also shared what was working. 
---
CNJG's response to Superstorm Sandy also included
Coastal Communities Site Visit Tours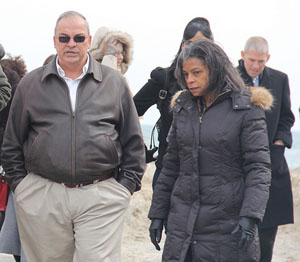 CNJG offered its members a rare opportunity to tour several of the disaster-affected communities in Monmouth and Ocean Counties and to hear from those on-the-ground. Throughout the day, twelve guest speakers representing all areas of the effort, including individuals from FEMA, local and state government, Long Term Recovery Group leaders, city and state planners, environmental professionals, social services personnel, and faith-based leaders, among others spoke to a group of 60 philanthropic leaders. Building upon the first successful Coastal Communities Site Visit Tour, CNJG offered a similar program focusing on communities in northern New Jersey – specifically the hard hit areas in Essex, Hudson and Bergen Counties. In addition to hearing from a wide range of local officials, Long Term Recovery Group Leaders, urban planners, and environmental experts, the site visit included a tour of a PSEG sub-power station which was flooded.
---
Statewide Conference
Bringing together an incredible community of funders, providers and practitioners for a day of exploration, shared learning and discussion at the Spring 2013 Conference for the Social Sector - Our Shared Road Ahead: Sandy and Beyond on June 10. The Conference provided participants with an important opportunity to hear about the lessons learned by social sector colleagues and experts around the country who have grappled with how to create effective long-term philanthropic responses to catastrophic events in the absence of a readily available guide.
---
Superstorm Sandy Philanthropic Investments Scan
Philanthropy & Hurricane Sandy: A Report on the Foundation & Corporate Response is a report released in October 2014 by CNJG and partners that examines the response of foundations, corporations, and other institutional donors to the devastation wrought by Hurricane Sandy in October 2012. Numbering nearly 600, these funders have so far committed more than $380 million for relief, recovery and building efforts. The hard data and reflective observations in the report contribute to the growing body of knowledge that helps foundations and corporations be strategic and effective with their giving when disaster strikes.
Two years after the historic storm, this report breaks down the allocation of dollars contributed thus far and offers perspective on the role of private giving in disaster response and lessons to be taken from this one. The report was published by the Foundation Center in partnership with the Council of New Jersey Grantmakers and Philanthropy New York, and with support from the Center for Disaster Philanthropy.
---
Special thanks to our philanthropic partners that have supported various aspects of the Council's work beginning immediately after Hurricane Sandy struck through our ongoing work today, including: the Center for Disaster Philanthropy, Citi, Fund for New Jersey, The Henry & Marilyn Taub Foundation, The Horizon Foundation for New Jersey, Hurricane Sandy New Jersey Relief Fund, JCP&L, JPMorgan Chase, Jon Bon Jovi Soul Foundation, The Merck Company Foundation/Merck & Company, Inc., PSEG Foundation, Provident Bank Foundation, Rita Allen Foundation, Subaru, TD Bank, United Way of Essex and West Hudson, Verizon NJ, and the Victoria Foundation.
---