Excellence in Giving
In 2005, CNJG adopted Guiding Beliefs & Principles to offer a thoughtful source of direction and inspiration to help guide our state's philanthropic sector into the future. CNJG first launched its Excellence in Giving initiative in 2007 with the goal is to provide grantmakers the practical tools necessary to ensure best practice in their operations and grantmaking.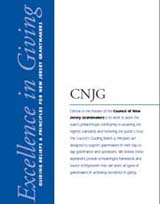 The first booklet, Guiding Beliefs & Principles for New Jersey Grantmakers includes a wealth of insights and tips related to board governance, legal compliance, grantee communications, fiscal responsibility, public disclosure, and many other key areas of foundation governance and operations. It contains wisdom provided by leaders of all types of giving organizations within the CNJG's membership, and is intended to serve as a practical resource to assist New Jersey foundations in their grantmaking.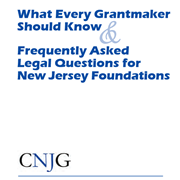 In 2010 CNJG released a second, comprehensive resource to help the state's philanthropic community understand their ethical, legal, and fiduciary requirements and obligations - What Every Grantmaker Should Know and Frequently Asked Legal Questions. These two booklets are key publications in CNJG's Excellence In Giving Series. While the Guiding Beliefs & Principles is available publically, members will need to log into access the legal guide for download.
Members can request additional copies of the booklets mentioned on this page by contacting Theresa Jacks.