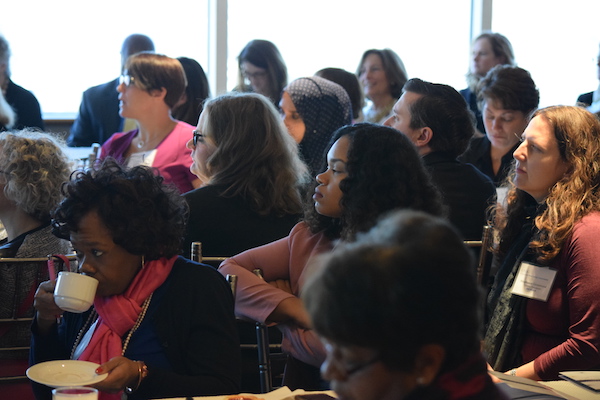 CNJG's special programming, "Race, Racism and Ramifications for Philanthropy" is a multifaceted, multi-layered learning journey that included a two-part workshop from the Association of Black Foundation Executives (ABFE)  on diversity, equity, and inclusion, four cultural experiences, and a funders briefing from the Anti-Poverty Network of New Jersey. The series also included four facilitated salon-style conversations focusing on health disparities, implicit bias and white privilege, livable moments, and structural racism. Additionally, the CNJG Annual Meeting in both 2016 and 2017 addressed diversity and its value providing an overarching vision. 
Our broader objectives for this series were to:
offer a range of different ways to enlighten, engage and educate Council members about structural racism and implicit bias;
provide a deeper understanding of the language, definitions and constructs of racism, diversity, equity, and inclusion;
explore and uncover the long-term effects of institutional and structural racism, and discriminatory policy;
give funders real and effective tools that they can implement in their day-to-day work to combat and mitigate the impact of racism and bias in our communities and neighborhoods;
provide a "safe space" for grantmakers to consider and fully unpack these difficult issues.
CNJG worked directly with a number of well-respected and informed partners and facilitators to provide specific content, expertise, experiences, and lead discussion. This included ABFE: A Philanthropic Partnership for Black Communities and its leader Susan Taylor Batten, Dr. Denise Rodgers of Rutgers, Aljira Arts, consultants Tanya Odom and Inca Mohamed, Bethany Baptist Church Rev. Timothy Levi-Jones, and leaders from the Anti-Poverty Network of New Jersey.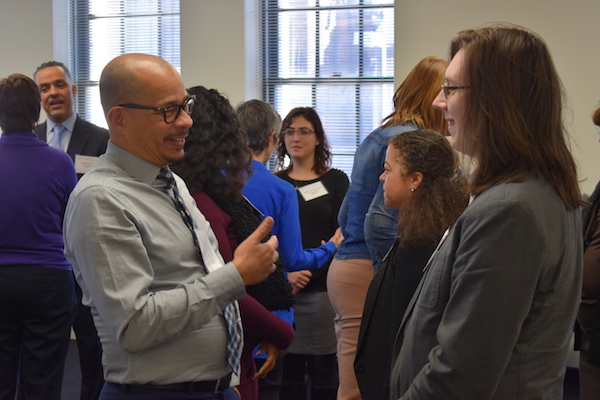 Throughout the journey we tried to be deliberate in meeting CNJG members "where they are" given their varying degrees of experience and sophistication on this topic.  Since this learning journey started in late 2016, there are many more regular conversations and exchanges among CNJG members on the issues of diversity, equity and inclusion. The Council of New Jersey Grantmakers has been pleased to bring to our members a variety exceptional thought leaders, tools, facilitators, and resources to assist them as they consider the ramifications of racism in their work.
---
The Race, Racism and Ramifications for Philanthropy Learning Journey Includes:
Events
CNJG 2016 Annual Meeting and Luncheon PreMeeting Workshop - A Framework for Effective and Responsive Philanthropy – How to Navigate Racial Dynamics within the Communities We Serve on December 9, 2016
Phillips Collection Field Trip – People on the Move: Beauty and Struggle in Jacob Lawrence's Migration Series on December 15, 2016
Workshops: A Deeper Dive Into Navigating Racial Dynamics – Part 1 on February 13, 2017 and Part 2 on March 6, 2017
Cultural Experience and Field Trip – "American Son" at the George Street Playhouse on February 23, 2017
Funders Briefing from the Anti-Poverty Network of New Jersey - The Uncomfortable Truth: Racism, Injustice and Poverty in New Jersey on October 3, 2017
Cultural Experience: Pre-Opening Reception – "The Missing" at Aljira on October 12, 2017
Lunch and Conversation: Health Disparities on November 1, 2017
Lunch and Conversation: Implicit Bias & White Privilege on November 29, 2017
CNJG Annual Meeting - Our Compelling Interests: The Value of Diversity for Democracy and a Prosperous Society on December 15, 2017
Lunch and Conversation: Structural Racism on January 18, 2018
Cultural Experience and Field Trip - "Back to Real" at Crossroads Theatre on May 17, 2018
The Council of New Jersey Grantmakers thanks The Fund for New Jersey and the Robert Wood Johnson Foundation for its support of our Race, Racism and the Ramifications for Philanthropy programming.
Articles & Resources
The Atlantic: The Case for Reparations
NY Times Essay: White Debt
National Center for Family Philanthropy: You Can't Fund Equity Without Sweat Equity
Harvard Business Review: Emotional Agility
Letter from Nina Stack: Conversation and Educational Program on Structural Racism (2/07/2018)
Letter from Nina Stack: CNJG's Unique Programming (10/05/2017)
Letter from Nina Stack: Race, Racism and the Ramifications for Philanthropy Launch (12/08/2016)
CNJG: Implicit Bias & White Privilege Presentation
ABFE: Knowledge, Training and Technical Assistance
CNJG: 2017 Implicit Bias Review
Medium: A Day in the Life: How Racism Impacts Families of Color
The Good Men Project: White Fragility: Why It's So Hard to Talk to White People About Racism
Race to Lean: The Race to Lead Series
Virginia Commonwealth University: Mapping Life Expectancy-Zipcode and Health
Website: The Equality of Opportunity Project
Project Implicit: Implicit Association Test
Stanford Social Innovation Review: Eliminating Implicit Bias in Grantmaking Practice
Grantcraft: Grantmaking with a Racial Equity Lens
Videos
TedTalk: Dr. David Williams "How Racism Makes Us Sick"
The Race Card Project: In Conversation with Ta-Nehisi Coates at AtlanticLive New York Ideas 2015
Jon A. Powell: Putting Racism on the Table: Structual Racism
NY Times: Implicit Bias Videos
NJTV News: Police and Teachers Undergo Trauma Training