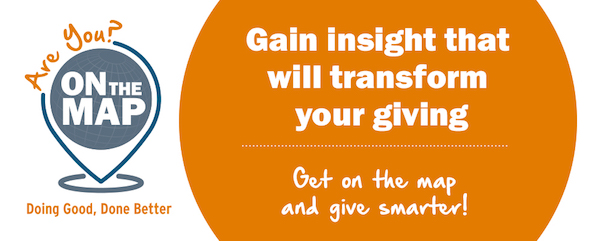 Get on the map and give smarter!
Get on the Map is an exciting data-sharing initiative designed to dramatically improve the quality and availability of giving data for our region. Put your grantmaking in context to gain insights that will transform your giving. You recognize how valuable it is to understand what other foundations or corporations are funding in a certain area or with a specific nonprofit.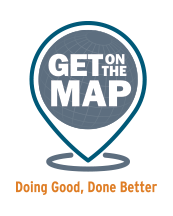 Imagine real-time answers to questions like:
How are others serving at-risk youth?
Are organizations in our region receiving enough capacity building support?
Who else funds economic development in our rural communities?
Through a special partnership with the Candid (formerly the Foundation Center) and the United Philanthropy Forum the campaign to Get on the Map enables CNJG members to see the scope of their grantmaking, find natural funding partners, and have a much deeper understanding of New Jersey's philanthropic landscape.
Watch our short video to learn how easy it is to Get on the Map! 
---
It all starts with YOU sharing your giving data!
Your data will power valuable resources for your organization and our region including access to the CNJG Foundation Map, a special interactive searchable mapping platform, engineered by Candid.
Plus, when you share your data, you control your story. No one knows your grantmaking better than you. Tell your story, your way. And, that means, it's good for the sector. Better information benefits everyone but it begins with YOU! Join the community of funders sharing their data to ensure the field has the best information to act on.
---
How to share your data
Our partner, Candid, is gathering all the data for our region and structuring it for us. See their full instructions.
Share your grants data in just 3 simple steps:
Register for an Updater account. (Already have an account? Log in here.)
Export a complete list of your most recent grants data in a spreadsheet using the eReporting template.
TIP: Check the list of software partners to see if your grants management system already has this template built-in.
Once logged into Updater, submit your data in the "Upload Grants" section.
As soon as Candid processes your data, you'll receive your own interactive giving map!
---
Take your updater profile to the next level & everyone wins!
While you are in Updater, take a few extra minutes to verify and update the information that Candid is publishing about you. You not only ensure that your good work is showcased accurately, but that the field has the best information to act on.
Candid's Updater allows you to share a wealth of information about your organization, including:
Basic Information: Organization name, address, phone number, and website
Work Categories: Your issue areas, geographic focus, target populations, and more
Fiscal Data: Current financial information (e.g., assets, expenses, giving, etc.)
People: Key officers, trustees and staff
Grant Applications: Deadlines, funding requirements and more
Programs: Detailed info on your direct program work
Grants: A list of your latest grants following our eReporting program guidelines
Get the answers to your Frequently Asked Questions including:
What information do I need to provide?
Why is it important to provide a grant description?
How is my grants data coded by Candid?
How frequently should I share my grants data?
How quickly will my information appear on my complimentary map?
Can I embed my complimentary map on my website?
What should I do if corrections need to be made to my data?
How will my grant information be used and shared?
How do I responsibly share sensitive grants data?
Candid is offering a webinar in November 2019 for CNJG members and foundations from across the nation to learn more about the Get on the Map process.