Foundations on the Hill
Foundations on the Hill (FOTH) is a two-day event for foundation executives and staff, board members and philanthropic leaders to meet with their federal lawmakers in Washington. Hosted by the United Philanthropy Forum, the gathering brings foundation leaders to DC for meetings with Congress about key issues of importance to foundations and philanthropy. Annually, the Council brings a delegation of CNJG members to meet with representatives of New Jersey's Congressional offices.
The overall purpose of Foundations on the Hill is to:
Inform and educate Congress about philanthropy
Create visibility for foundations and philanthropy on Capitol Hill
Advocate on issues affecting foundations
Encourage Congress to view foundations as resources on key public policy issues
---
The FOTH event was last held on March 12-14, 2018. Over 240 grantmakers and foundation leaders from thirty-two states and Washington D.C. attended the annual Foundations on the Hill (FOTH) gathering for a nearly 3-day event to visit with our Congressional Representatives. The Council was pleased to meet with all twelve of our Congressional offices and both of our Senate offices on March 13 and 14. The CNJG delegation included: Bill Byrnes, F. M. Kirby Foundation; Chris Daggett, Geraldine R. Dodge Foundation; Bill Engel, The Hyde and Watson Foundation; Jeremy Grunin, The Jay and Linda Grunin Foundation; Laura Overdeck, Overdeck Family Foundation; Michael Unger, The Atlantic Foundation; Lucy Vandenberg, The Fund for New Jersey; and Nina Stack and Theresa Jacks from the CNJG staff. Once again, we were delighted to have Linda Czipo, Center for Non-Profits join our delegation.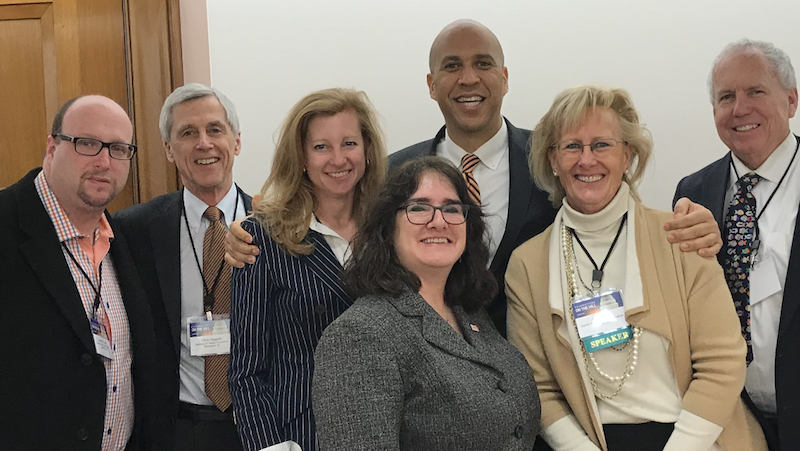 The main goals of our annual visit is to strengthen and build the Council's relationship with our elected officials and their staff; share philanthropy's role and impact throughout our New Jersey communities; and encourage Congress to view foundations as resources on key public policy issues. While our year to year messaging continues to embody and communicate these overall goals, the CNJG Leadership and Policy Committee vets and approves additional key messages each year.
Among our discussion points this year was the need to preserve the Johnson Amendment, building support for a universal charitable giving incentive, and ensuring a fair and accurate 2020 US Census. CNJG Delegation members were pleased to meet directly with Senator Booker, and Congressmen Lance, MacArthur, Pascrell, Sires, as well briefly speaking with Congressman Smith.
Foundations on the Hill is hosted by United Philanthropy Forum in partnership with the Alliance for Charitable Giving. This annual event provides an opportunity for foundation executives, staff, and board members, and philanthropic leaders to meet with our federal lawmakers in Washington to communicate the invaluable impact of the philanthropic and nonprofit sectors in our communities throughout the nation.
Foundations on the Hill 2019 is scheduled March 11 - 13. For more information, please contact Theresa Jacks.
See highlights from CNJG's 2017 Foundations on the Hill visit.
See highlights from our United Philanthropy Forum partners.