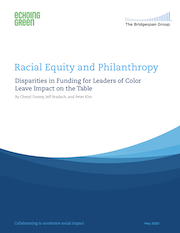 Echoing Green and Bridgespan collaborated to research the depth of racial inequities in philanthropic funding. Based on what we see in our work as intermediaries in the sector, two of the biggest factors holding back philanthropy's efforts to help advance social change are rooted in race:
Understanding the role of race in the problems philanthropists are trying to solve
The significance of race when it comes to how philanthropists identify leaders and find solutions.
This research, from Echoing Green and Bridgespan, lays bare the racial disparity in today's funding environment and argues that population-level impact cannot happen without funding more leaders of color.