Source(s):
Business for Social Responsibility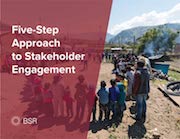 In 2019, the landscape of digital communication, international agreements and investor expectations makes stakeholder engagement more important than ever: Digital and social media amplify voices of the public, including civil society organizations; international agreements such as the UN Guiding Principles and Sustainable Development Goals have been established and globally accepted; and investors are significantly more focused on company approaches to environmental, social, and governance (ESG) issues, which in turn necessitate consideration of all stakeholders, not just shareholders.
First published in 2011, this updated guide from BSR is a response to developments over the last seven years, all of which necessitate a far clearer focus on stakeholder trust by corporations. This report aims to provide a comprehensive toolkit that incorporates the latest thinking while maintaining the clarity and practicality of their five-step approach.