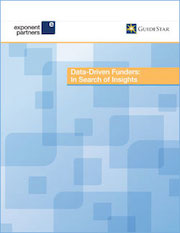 Traditionally, funders have asked grantees to report on compliance with grant requirements. But these reports don't show the difference a grantee is making with a funder's money.

This report looks at how leading grantmakers are tackling the transition from compliance reporting to performance management. Representatives from the Blue Sky Funders Forum, James Irvine Foundation, Robin Hood Foundation, David and Lucile Packard Foundation, and Tipping Point Community:
identify barriers to data-driven funding;
describe how their organizations are using technology to overcome these obstacles;
and suggest how other funders can follow their lead.