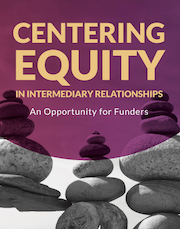 Times of mass mobilization like the uprisings for Black lives and global crises like the COVID pandemic broaden awareness of the work of organizations, collectives, and other groups of people working to transform harmful systems. Some of these groups turn to intermediaries—fiscal sponsors and donor intermediaries—to provide back-office support, grant funding, and other services to support their ongoing work and evolution.
This report explores the ways in which the ecosystem of funders and intermediaries can better support these groups—which we're calling "constituent-led groups"—who do their work without formal 501c3 status and are often led by and supporting historically oppressed communities.
Today, many constituent-led groups, particularly those that are smaller and geographically isolated, struggle to find fiscal sponsors and other intermediaries that share their values and can provide services that are deeply rooted in racial equity. For a number of reasons, funders—who can't otherwise support constituent-led groups—often prioritize partnering with intermediaries with a high capacity for scaling services and distributing resources and funds. Though equity values are important to funders in selecting intermediaries to partner with, many funders don't know what equity-centered services look like or how to support intermediaries in deepening this work.
In this report, we share different ways fiscal sponsors and donor intermediaries have approached deepening equity in their work while meeting the volume of demand from constituent-led groups and funders. We also offer some pathways forward for funders seeking to strategically invest in intermediaries to strengthen their capacity in these areas so they might better serve constituent-led groups.