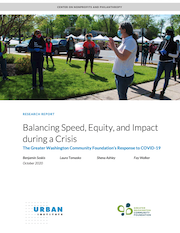 The COVID-19 public health and economic crisis has changed our world as we know it. As employers moved to remote work, schools shifted to distance learning, and businesses closed completely, it became clear that the impact on residents, nonprofits, and businesses was far greater than anyone could have ever imagined.
In response to the growing and evolving needs of our region, the Greater Washington Community Foundation established the COVID-19 Emergency Response Fund to raise and rapidly deploy funding to local nonprofits providing food, shelter, educational supports, and other critical services.
From the beginning our goal was clear: to address the immediate needs and reach adversely affected communities, particularly low-income households and communities of color. We know all too well that in a crisis like this, these marginalized communities are hit the hardest, and often take the longest to recover.
In times of crises, The Community Foundation is our region's philanthropic first responder, bringing together individuals and families, philanthropic peers, corporate partners, and local government advisors to address community issues. Building on our rich history of emergency response work, we grounded our COVID-19 response efforts in a similar coordinated approach.
This report chronicles the steps taken, under immense pressure, to develop a coordinated emergency response effort to support a broad range of needs across the region. Once again this effort has demonstrated that working in partnership and close collaboration with our philanthropic peers and local government advisors is an effective way to manage a response to both urgent and longer-term needs.