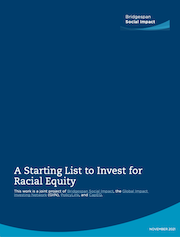 This work is a joint project of Bridgespan Social Impact, the Global Impact Investing Network (GIIN), PolicyLink, and CapEQ.

Since the social unrest over racial injustice in the summer of 2020, philanthropists, corporations, and impact investors across the United States pledged to invest billions of dollars to advance racial equity. However, recent scrutiny of those commitments reveals that the majority of those dollars remain on the sidelines.

A common hypothesis for the shortfall is the lack of investable "shovel-ready" opportunities. But Bridgespan Social Impact has formally and informally advised organizations seeking to invest for racial equity over the years, and found that hypothesis to be patently untrue. To make the case, Bridgespan is publishing this list of racial-equity funds that emerged from our experience, at the request of multiple funds and potential investors, and alongside the launch of a new racial-equity theme in the IRIS+ family of impact measurement and management guides. It comprises more than 160 funds that explicitly seek to improve the livelihoods of individuals who are Black, Indigenous, and people of color (BIPOC) and their communities. And we're not done yet.

What is racial-equity investing?
In putting together this list, we chose to characterize "racial-equity investing" as directing capital toward creating equitable opportunities for BIPOC individuals and communities. That often requires shifting decision-making power and redefining risk so that capital flows more freely in service of those opportunities.

Sourcing these funds, we uncovered dozens of creative financing vehicles aimed at building power, creating economic opportunity, and improving livelihoods for communities of color.