Source(s):
The Bridgespan Group
The Association of Black Foundation Executives (ABFE)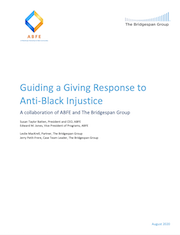 The Bridgespan Group collaborated with ABFE to co-author "Guiding a Giving Response to Anti-Black Injustice," with additional input from proximate leaders. This memo offers philanthropy potential paths to invest in organizations and movements within the Black-led racial justice ecosystem. It provides principles for giving that can help funders make investments with sustained change in mind, and highlights priority investment areas and example organizations within those areas that represent tangible opportunities. Our list is not exhaustive, but rather a starting place for funders who seek to support Black-led organizations and movements committed to anti-racist social change.