2019 New Jersey Conference for the Social Sector: Census 2020 – Defining the Next 10 Years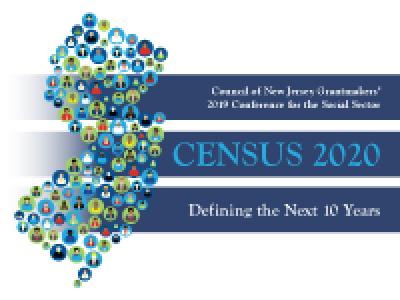 Where:
The Palace at Somerset Park, 333 Davidson Avenue, Somerset, NJ 08873
Add to Calendar
The 2020 Census is coming and it counts — in more ways than one.
The Census isn't just a population tally. State and local governments, businesses, nonprofits and foundations, rely on Census data to allocate funding, define where services are delivered, and promote economic development. The information is valuable for health care, education, housing, transportation, and business. It helps determine congressional representation, political participation, and other fundamentals of community wellbeing and American democracy. 
A full, fair count is crucial, but it isn't guaranteed.
The Census disproportionately misses people of color, young children, and the rural and urban poor. Our state and nation have too much at stake for the social sector to stay on the sidelines. 
Come to the Council of New Jersey Grantmakers Spring Conference  and learn what philanthropies and their grantees can do to make sure New Jersey is counted. 
National and state experts will share information and tools to meet the many challenges communities across the state will face to be counted. There are serious concerns about access to the Census, hard-to-count people, and potential funding cuts and changes in the process could hamper participation. Much needs to be understood; much needs to be done. The conference will raise and answer the most important questions so New Jersey's social sector builds the capacity to meet the once-in-a-decade obligation to engage at the deepest level.
AGENDA
8:00 a.m. to 9:00 a.m.    Registration, Breakfast, and Resource Marketplace
9:00 a.m. to 10:15 a.m.  Opening Plenary - Census 101 and What Philanthropy Can Do for the 2020 Census
10:30 a.m. to 11:00 a.m. Session 1: Challenges to a Fair Count
11:00 a.m. to 11:30 a.m. Session 2: Where Are the Kids? The Undercount of Children
11:45 a.m. to 12:45 p.m. Big Talk: Opportunities for Action
1:00 p.m. to 2:30 p.m.    Luncheon Plenary - Keynote Presentation
2:30 p.m. to 3:15 p.m.    Ice Cream Reception and Resource Marketplace
LOCATION INFORMATION
The Palace at Somerset Park is located at 333 Davidson Avenue in Somerset, New Jersey. For more information about The Palace, please visit their website.
REGISTRATION INFORMATION
CNJG Members: $120 for first registrant, $90 for all subsequent registrants - Please register everyone online at the same time to receive this pricing.
Grantmakers who are NOT CNJG Members: $200 for each registrant
Staff and Trustees from Nonprofit Organizations: $90 for each registrant
Cancellations made on or before June 3 will be assessed a $25 administrative fee. No refunds will be made for cancellations made on or after June 4, though you may send a substitute if you are unable to attend (please notify us if this will occur).
The deadline for registration is June 3. Payments by credit card can only be accepted through the CNJG website and must be submitted at the time of registration. Payments at the door must be made by cash or check. Nonmembers and nonprofit representatives must pay in full before entering the Colloquium.
For questions, additional information, or to register by phone, please contact Anna D'Elia via e-mail or 609.341.2022 x4216.
The Council of New Jersey Grantmakers seeks to create a community of shared inquiry among foundations and nonprofits characterized by mutual respect and trust. While networking is encouraged, we request that all participants refrain from soliciting funds or business at CNJG programs.
By registering for this event, guests at this program allow the Council of New Jersey Grantmakers to use their name and any pictures taken at this event, without compensation, for promotional and publicity purposes in broadcast, telecast, print, electronic, and all other media.