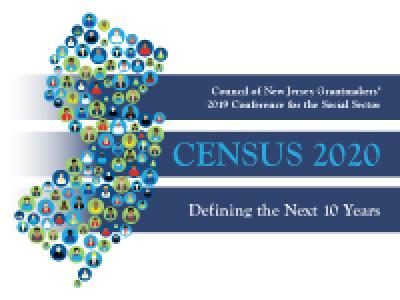 Where:
The Palace at Somerset Park, 333 Davidson Avenue, Somerset, NJ 08873
Add to Calendar
The 2020 Census is coming and it counts — in more ways than one.
The Census isn't just a population tally. State and local governments, businesses, nonprofits and foundations, rely on Census data to allocate funding, define where services are delivered, and promote economic development. The information is valuable for health care, education, housing, transportation, and business. It helps determine congressional representation, political participation, and other fundamentals of community wellbeing and American democracy.
A full, fair count is crucial, but it isn't guaranteed.
The Census disproportionately misses people of color, young children, and the rural and urban poor. Our state and nation have too much at stake for the social sector to stay on the sidelines.
The Council of New Jersey Grantmakers' 2019 Spring Conference brought together foundation and nonprofit leaders throughout the state to learn what their organizations can do to make sure New Jersey is counted.
The Conference featured national and state experts who shared information and tools to meet the many challenges communities across the state will face to be counted. We heard serious concerns regarding access to the Census, hard-to-count people, and potential funding cuts and changes in the process that could hamper participation.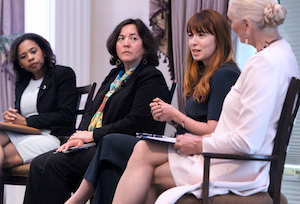 Speakers offered a number of opportunities for action and partnership, from spreading awareness about the importance of 2020 Census in your communities and networks to funding outreach efforts from grass-roots organizations. The Conference raised and answered the most important questions about the Census and what needs to be done for a complete and accurate count. Now, the social sector must build the capacity to meet this once-in-a-decade obligation to engage at the deepest level.
The Council of New Jersey Grantmakers looks forward to continuing conversations, partnerships, and action around the 2020 Census. Please explore our resources from the conference below and visit our webpage Philanthropy's Role in the 2020 Census to learn more.
AGENDA
Opening Plenary: Census 101
A comprehensive update on all things census, including how the Census Bureau is getting the word out, what is guiding the planning for 2020, and what still needs to be done before Census Day.
Presenter: Jeff T. Behler, Regional Director, US Census Bureau - New York (Bio)
What Philanthropy Can Do for the 2020 Census
Explore ways in which the philanthropic sector can leverage resources to ensure the most accurate census information, so the voices of undercounted groups and regions are heard in the decade to come.
Presenters: Gary D. Bass, Ph.D., Executive Director, Bauman Foundation (Bio)
Vanita Gupta, President and CEO, The Leadership Conference on Civil and Human Rights (Bio)
Moderator: Maria Vizcarrondo, President and CEO, Council of New Jersey Grantmakers (Bio)
Session 1: Challenges to a Fair Count
Two experts in civil and voting rights law will walk us through what the citizenship question really means for the census count, and the potential impact it will have on already hard-to-count communities.
Presenters:
Ryan P. Haygood, Esq., President & CEO, New Jersey Institute for Social Justice (Bio)
Ezra Rosenberg, Co-director of the Voting Rights Project, Lawyers' Committee for Civil Rights Under Law (Bio)
Facilitator: Bob Atkins, Director, New Jersey Health Initiatives--Robert Wood Johnson Foundation (Bio)
Session 2: Where are the Kids? The Undercount of Children
Children are one of the largest undercounted populations in the Census. In this session, we will learn what your organization can do to prevent an undercount in 2020, and why an accurate count is essential for our children's futures.
Presenters:
Peter Chen, Policy Counsel, Advocates for Children of New Jersey (Bio)
Alana Vega, Kids Count Coordinator, Advocates for Children of New Jersey (Bio)
Facilitator: Melissa Litwin, Early Childhood Program Director, The Henry and Marilyn Taub Foundation (Bio)
Panel Discussion: Opportunities for Action
Nonprofit, foundation, and government leaders invite your organization to step up for the 2020 Census count. Panelists will provide concrete examples and resources to get involved now.
Panelists:
Kiki Jamieson, President, The Fund for New Jersey (Bio)
Betsy Plum, Vice President of Policy, New York Immigration Coalition (Bio)
Inge Spungen, Executive Director, Paterson Alliance (Bio)
The Honorable Tahesha Way, New Jersey's 34th Secretary of State, Department of State (Bio)
Moderator: Linda M. Czipo, President & CEO, Center for Non-Profits (Bio)
Luncheon Plenary: Call to Action for the 2020 Census: A Once-in-a-Decade Opportunity to be Counted
Another undercount for 2020 means another ten years of relying on inaccurate data to inform our state's political representation and funding for vital resources. For too long, the census has missed disproportionate numbers of people of color, young children and the rural and urban poor, and with new challenges in 2020, participation of hard-to-count populations may be hindered further. With the count only a year away, now is the time for the philanthropic sector to step up and get New Jersey counted.
Speaker: Arturo Vargas, Chief Executive Officer, NALEO Educational Fund (Bio)
CNJG thanks our conference sponsors and supporters: Signature Sponsor – PSEG; Collaborator Sponsors – The Fund for New Jersey and JPMorgan Chase & Co.; Connector Sponsors – New Jersey Natural Gas and Wells Fargo; Colleague Sponsors – FirstEnergy Foundation and Subaru of America Foundation; Exhibitor Sponsors – Glenmede and PKF O'Connor Davies; and Venue Sponsor – The Palace at Somerset Park.
Conference Photos
Read Our Online Discussions
Additional resources, articles, and videos about the Census may be found on our webpage - Philanthropy's Role in the 2020 Census.
Resources:

2019 New Jersey Conference for the Social Sector Invitation.pdf

Bob Atkins Bio.pdf

Gary D. Bass Bio.pdf

Jeff T. Behler Bio.pdf

Peter Chen Bio.pdf

Linda M. Czipo Bio.pdf

Vanita Gupta Bio.pdf

Ryan P. Haygood Bio.pdf

Kiki Jamieson Bio.pdf

Melissa Litwin Bio.pdf

Betsy Plum Bio.pdf

Ezra Rosenberg Bio.pdf

Inge Spungen Bio.pdf

Arturo Vargas Bio.pdf

Alana Vega Bio.pdf

Maria Vizcarrondo Bio.pdf

Tahesha Way Bio.pdf

Children Under Age 5 At Greatest Risk for Undercount in New Jersey.pdf

NALEO Educational Fund - Census 2020.pdf

Census 2020 Timeline for Philanthropy.pdf

NJ Counts 2020 for Nonprofits.pdf

NJ Counts 2020 for Philanthropy.pdf

A Call to Action for the 2020 Census - Arturo Vargas Presentation.pdf

Census 101 - Jeff Behler Presentation.pdf