Wednesday, August 17, 2016
Kevin Callaghan is Next Leader of Innovative Partnership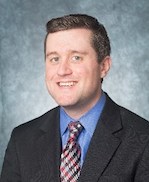 The Council of New Jersey Grantmakers (CNJG) and the City of Newark are pleased to announce the appointment of Kevin Callaghan as the Council's new Philanthropic Liaison to the City of Newark.   Based in Newark's City Hall, Callaghan will lead the Office of the Newark Philanthropic Liaison (ONPL) as it convenes, connects and leverages the resources of the state, regional and national philanthropic community for the benefit of Newark's citizens and institutions.  For nearly five years Callaghan served as the Program Officer at the Foundation for Newark's Future, the local arm of national philanthropic funding donated to the City of Newark to improve education opportunities for youth. Most recently, he served as Project Lead on the City's Summer Youth Employment Program. He will formally undertake his new role on September 1.
Newark Mayor Ras Baraka and CNJG President Nina Stack hailed Callaghan's appointment.  "In the time I've come to know Kevin I've seen the passion he has for the City of Newark and the thoughtful, inclusive way he approaches his work," commented Mayor Baraka.  "We are glad to have him on our team."   CNJG President Stack added, "Kevin brings an understanding of how foundations work and a real appreciation for the impact strategic philanthropy can have when it works collaboratively with other funders and government leaders. We are very excited to welcome Kevin in this role as leader of the ONPL and look forward to seeing how he builds on the Liaison Office's achievements over the last eight years."
Callaghan replaces former Newark Philanthropic Liaison Jeremy Johnson who helped define this innovative collaboration between the Council and the City of Newark in 2007 under former Mayor, now United States Senator, Cory Booker. It marked one of the nation's first formal partnerships between a city and the philanthropic sector.  Since then, and with the subsequent election of Mayor Ras Baraka in 2014, the ONPL has continued to be a nationally acclaimed model for public - philanthropic alliances, leveraging more than $50 million in private support for City initiatives.  
Callaghan will work in partnership with Mayor Baraka's Chief Policy Advisor Tai Cooper and cabinet to support public safety, summer youth employment, workforce development, economic development, health and wellness, education and literacy, immigration, and neighborhood and place-based initiatives. "The Office of the Newark Philanthropic Liaison is a critical resource to our city. Having previously worked with Kevin, I know he will be very effective in his new role and I look forward to continued collaboration with him," said Cooper.
"It is an honor to have been selected to lead the Office of the Newark Philanthropic Liaison.  I know firsthand the value of collaboratively harnessing the power of philanthropic resources for the direct benefit of Newark's communities.  Under the guiding principle of collective action, I look forward to working with the grantmaking community and the City of Newark to leverage every possible opportunity to unlock the endless potential of this city," said Callaghan.
A non-partisan position, the ONPL is funded by a consortium of grantmakers including Bank of America, the Geraldine R. Dodge Foundation, The Nicholson Foundation, The Prudential Foundation, Schumann Fund for New Jersey, Turrell Fund and the Victoria Foundation.  "Having served with my colleagues as an on-going funder of this unique initiative, I am delighted to know that the fine work that has been accomplished since its inception will continue under the able leadership of Kevin Callaghan," said Dr. Irene Cooper- Basch, Executive Officer of the Victoria Foundation. 
Previously, Callaghan served for two years as a middle school classroom teacher in Philadelphia through Teach for America.  Earlier in his career, he worked for the federal government as a special assistant at the Overseas Private Investment Corporation in Washington D.C. where he supported development efforts for emerging markets.
Callaghan holds a Bachelor's Degree in Political Science and History from St. Peter's University in Jersey City and a Masters' Degree in Urban Education from the University of Pennsylvania.  Born and raised in New Jersey, he resides with his family in Essex County.