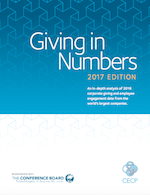 The corporate world continues to face many opportunities, not only in terms of improving nancial performance, promoting long-term vision among investors, adjusting to changing markets, and customer preferences, but also in terms of promoting corporate societal engagement. Large companies continue their commitment of being a force for good in many more ways than before. Evolving societal needs along with internal strategic decision making and limited resources dictate how companies will support their communities.
In the last year CECP has witnessed how corporate societal investments are planned strategically and remained resilient despite an uncertain geopolitical environment. As explored in this report, CECP Pulse helped identify companies' responses to changes in public policies and other societal events.
This year's Giving in Numbers benchmark delves into the corporate sector's interconnection with society.