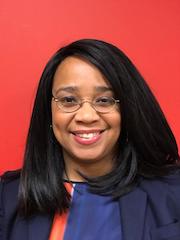 Aishah Miller has been named the new Executive Director of The Wells Fargo Regional Foundation, a role she officially assumed at the end of last year. As part of her responsibilities, she is also charged with leading the Wells Fargo Regional Community Development Corporation (CDC).  Miller replaces Denise McGregor Armbrister, who retired after more than 20 years in the role.   
"The board of directors is delighted to have Aishah join us as the Executive Director of the Wells Fargo Regional Foundation and CDC," said John P. Thurber, vice president of public affairs at Thomas Edison State College and chairman of the Wells Fargo Regional Foundation board.  "Aishah is innovative and community-focused, with the passion, energy and expertise to be an outstanding leader for this remarkable organization, as we work together to improve the lives of children and families in low-income communities across our region."
Miller provides oversight and management of the Foundation and CDC which recently celebrated 20 years investing in comprehensive, resident-driven neighborhood revitalization.  Recognized nationally for its unique approach to community development, the Foundation has awarded over $96 million towards the revitalization of low income communities in Eastern Pennsylvania, New Jersey and Delaware and has had its model replicated in other regions such as Houston, Baltimore and Seattle.
"It is a great honor to take on this role and join the Wells Fargo Regional Foundation and CDC team," Miller said. "I have long appreciated the depth and impact of the Foundation and CDC's work from afar and only hope to continue to build on its influence and prestige in the philanthropic community."
Prior to joining Wells Fargo, Miller was a German Marshall Memorial Fellow focusing on global relationship building, and before that she served as the Executive Vice President for Development at the Opportunity Finance Network (OFN), a national association of community development financial institutions that helps resources flow to people and places where traditional finance does not reach.   OFN is a key partner of Wells Fargo's community development work and in her role, Miller served as part of an advisory team that assisted in the development and execution of Wells Fargo's Diverse Community Capital program.
In addition to her community development background, Miller has held various leadership roles with Philadelphia-based organizations focused on public health including Drexel University and the Maternity Care Coalition.  She is also a member of the Board of the Seybert Foundation.  Miller holds a bachelor's degree from Williams College and a Masters in International Education and Economics from Columbia University.