You may recall my mentioning that this year the Council is undertaking a Strategic Visioning process. It is our 20th anniversary year and we want to thoughtfully consider what the organization that serves philanthropy in New Jersey needs to become to ensure we are as responsive and effective as we are today, at the end of our next decade. This is vital for a field that is evolving as rapidly as philanthropy, and for a state that is changing as much as New Jersey.
Some have asked why strategic visioning and not planning. There are a number of reasons, not the least of which is that we are taking a long view of five to 10 years out – that next decade. Some will agree when considering this kind of a timeline it is challenging to craft that kind of a long range a plan. Our world, let along our entire sector, is changing so rapidly that nimbleness and flexibility have become essential key traits. That said, I'm a strong believer in leadership guru Jim Collins' "hedgehog concept." The essence of the concept is to attain piercing clarity about how to produce the best long-term results, then exercise relentless discipline to say "no thank you" to anything that doesn't pass the hedgehog test. For the Social Sector, Collins' test centers on three essential attributes of "great organizations": Passion - understanding your core values and why you exist; Best At - understanding what you can uniquely contribute better than any other organization on the planet; and Resource Engine - understanding what best drives your time, money, and brand.
Our work kicked off in February at a joint meeting of the CNJG Board and the Working Group of members. It was a really lively, thought provoking, and exhilarating session looking at themes, evolutions, assumptions, and so much more. Below is a snap shot of some of the ideas that were generated.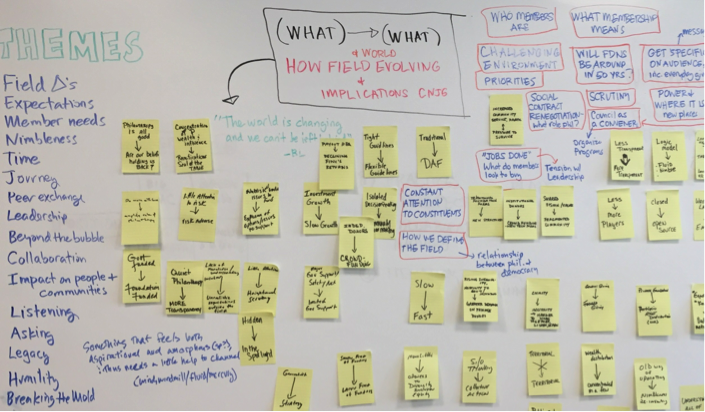 In keeping with the Collins' philosophy, our BHAG (Big Hairy Audacious Goal) is to look into the future and understand what the Council of New Jersey Grantmakers – in its service to philanthropy and New Jersey -- will be called and challenged to do in the next decade.
To accomplish this we need your help. In the coming weeks you will receive a link to a survey that we hope you will complete for the benefit of all of us, and our work tomorrow. I promise, it won't be too long and it will also trigger some interesting thinking for you and your organization. In addition to the survey, our working group is also undertaking interviews with a variety of colleagues and stakeholders. We also will convene a few focus groups. The goal is to share the findings with the membership in December at our Annual Meeting.
In the meantime, I look forward to seeing you next month at the Spring Conference where we will explore and learn more about the future of our state and how our collective sector will evolve.
Sincerely,
Nina Stack, President
Council of New Jersey Grantmakers