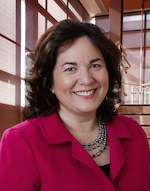 There's a Seat at the Table for Place-Based Funders
Taking on climate change is a daunting challenge for any institution, let alone a small place-based foundation in a state with no coal-fired power plants.

So when I learned that the focus of the Council on Foundations' annual conference was climate change, I was delighted. At The Fund for New Jersey, we learned firsthand the dramatic effects of a warming climate in 2012 when Superstorm Sandy — the intensity of which scientists predict may become an annual occurrence at the Jersey Shore by mid-century — ripped through our home state. In responding to this disaster, we looked at the bigger picture and began making grants for climate work to ensure New Jersey is prepared for changes to come.
I felt eager to share our experiences and what we learned with grantmakers from across the country and around the world at the April conference. I proposed and organized a panel highlighting how foundations of all types and sizes could make a difference in meeting the challenge of climate change.
I invited national leaders to join the discussion: Nicola Hedge, Environmental Initiatives director at The San Diego Foundation; Mary Skelton Roberts, senior program officer for Climate at the Boston-based Barr Foundation; and Scott Cooper, CEO of RE-AMP Network, a Midwest collaborative of foundations and non-profits. Our shared goal was to encourage other place-based foundations to join us in supporting climate change work.
The examples are inspiring...