Where:
Newark Beth Israel Medical Center, 201 Lyons Avenue, Newark, NJ 07112
Add to Calendar
The South Ward comprises the city of Newark's largest voting bloc and includes the legendary Weequahic Park and historic Weequahic and Clinton Hill neighborhoods.  The ward also faces some of Newark's steepest challenges in public safety, housing, health, and education. Attend and learn about several initiatives that, together, are poised to improve outcomes for South Ward residents.
The meeting will also include updates from Jeremy Johnson, Newark's Philanthropic Liaison, on the Education Subcommittee, the Early Learners Funders Group, the Newark City of Learning Collaborative, and the Advancing Safe and Healthy Homes Initiative (ASHHI).
Cost: Free for CNJG Members/$35 for Non Member Grantmakers
Refreshments will be served.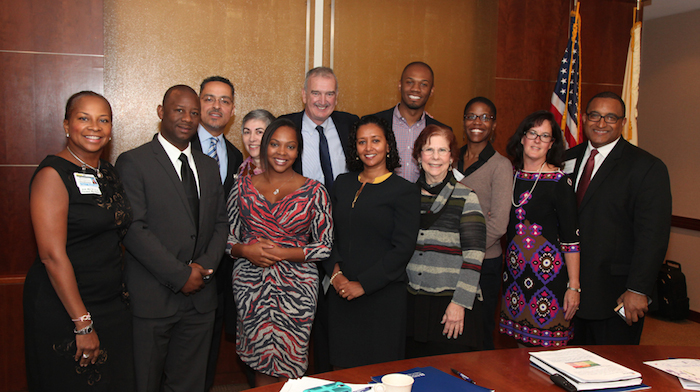 The meeting included representatives from the office of Mayor Ras Baraka and South Ward stakeholders. Pictured are (l-r) Tracy Munford, Vice President, Public Relations & Community Affairs, Newark Beth Israel Medical Center; Patrick Council, Director, Neighborhood and Recreational Services, City of Newark; Craig Drinkard, Senior Program Officer, Victoria Foundation; Barbara Reisman, Co-Chair of Newark Funders Group and Executive Director, Schumann Fund for New Jersey; Tai Cooper, Chief Policy Advisor, Office of the Mayor, City of Newark; Wayne Meyer, President, New Jersey Community Capital; Dr. Hanaa Hamdi, Director, Department of Health and Community Wellness, City of Newark; Dominique Lee, South Ward Children's Alliance and Founder and Executive Director, BRICK Academy; Marsha Atkind, Executive Director, Healthcare Foundation of New Jersey; Monique Baptiste-Good, Director, Strong Healthy Communities Initiative; Etta Rudolf Denk, Co-Chair of Newark Funders Group and Senior Vice President, Bank of America; Jeremy Johnson, Newark Philanthropic Liaison.
Photo Credit: Peter C. Richter, Newark Beth Israel Medical Center.
The Newark Funders Group is co-chaired by Etta Denk, Bank of America and Barbara Reisman, Schumann Fund for New Jersey. The Newark Funders Group is an affinity group of the Council of New Jersey Grantmakers