Midwest Family Foundation Webinar Series: Going Beyond Grantmaking: Using Impact Investing Tools for Mission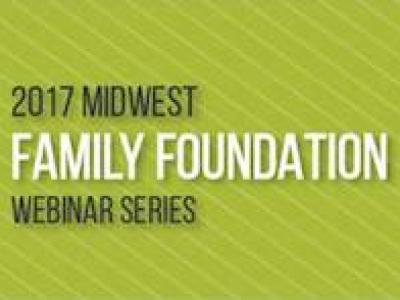 Add to Calendar
Join colleagues from across the Midwest and beyond for four webinars designed for staff and/or trustees affiliated with non- or small-staffed family foundations eager to find new ways of thinking smarter and performing better when it comes to their grantmaking. 
This webinar series is presented in collaboration with Indiana Philanthropy Alliance (IPA), Philanthropy Ohio (POH), Council of Michigan Foundations (CMF), and Minnesota Council on Foundations (MCF). Together, these regional associations hope to harness and share the collective expertise of each state's leading philanthropic organizations and trusted community partners.
Additional Webinar in the Series
11/15/2017: Legal Pitfalls: Do you know what you don't know? (hosted by Council of Michigan Foundations)
Going Beyond Grantmaking: Using Impact Investing Tools for Mission
Some family foundations enter impact investing with a unique investment opportunity posed by a community partner. Others initiate general discussion with a desire to put more of the foundation's assets to work towards mission. Whether your foundation is still exploring, just getting started or have experimented and want to go deeper, join us to learn about program-related investments, mission-related investments and everything in between.
Susan Hammel, Impact Investing Executive in Residence for the Minnesota Council on Foundations and Founder of Cogent Consulting will share new strategies emerging in 2017, highlight family foundation impact investing activity, and provide insight on how family foundations can participate.
SPEAKER
Susan Hammel, Executive in Residence, Minnesota Council on Foundation and President, Cogent Consulting Inc.
Long a leader in impactful philanthropy beginning with the Prudential Foundation, Susan is an experienced, results oriented executive serving as Executive in Residence with the Minnesota Council on Foundations. Susan is the Founder of Cogent Consulting Inc., an independent, Minneapolis-based strategic, financial, and impact investing consultant serving nonprofit and for-profit purpose-driven organizations which focus on making a tangible social impact. She has served as Executive Director of the Delta Dental of Minnesota Foundation and CFO for Ashoka: Innovators for the Public. She has advised a diverse group of foundations including the Opus Foundation, Blandin Foundation, Minnesota Philanthropy Partners, the Women's Foundation of Minnesota, the Ford Foundation, and the Minneapolis Foundation.
Using her Masters in Public Policy degree from Harvard and as a Chartered Financial Analyst, she combines financial expertise and a grounding in public policy with the big picture view of a philosophy major from Carleton College, where she graduated cum laude.
REGISTRATION
COST: $50 per webinar
Registration for these webinars through the Council of Michigan Foundation's (CMF) website. If you have not already set up an account with CMF, you may do so here prior to purchasing the webinars.