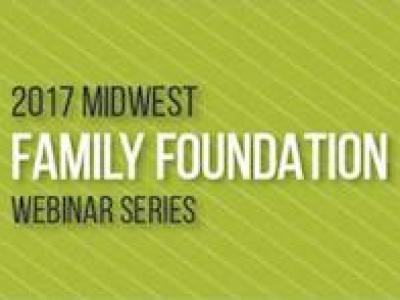 Add to Calendar
Join colleagues from across the Midwest and beyond for four webinars designed for staff and/or trustees affiliated with non- or small-staffed family foundations eager to find new ways of thinking smarter and performing better when it comes to their grantmaking. 
This webinar series is presented in collaboration with Indiana Philanthropy Alliance (IPA), Philanthropy Ohio (POH), Council of Michigan Foundations (CMF), and Minnesota Council on Foundations (MCF). Together, these regional associations hope to harness and share the collective expertise of each state's leading philanthropic organizations and trusted community partners.
Additional Webinars in the Series
7/26/2017: Is Your Family's Philanthropy Ready for the Future? (hosted by Indiana Philanthropy Alliance)
9/28/2017: Going Beyond Grantmaking: Using Impact Investing Tools for Mission (hosted by Minnesota Council on Foundations)
11/15/2017: Legal Pitfalls: Do you know what you don't know? (hosted by Council of Michigan Foundations)
Exploring Affective vs Effective Grantmaking
Whether you are part of a small staff or volunteer your time to continue a legacy, providing leadership to a family foundation provides unique opportunities and challenges. While each foundation's structure and interests are distinctive, balancing established funding partnerships along with a desire to be responsive to the current community needs in an informed and intentional manner is a common element of the work.
Join your family foundation colleagues from throughout Ohio for a participatory workshop that will explore the difference between "affective" and "effective" grantmaking.
SPEAKER
Anthony Richardson, program officer, The Nord Family Foundation
Tony joined the Foundation in January 2015 as a program officer. He earned a Bachelor's degree in Politics and African-American Studies from Oberlin College in 2005 and a Juris Doctorate degree from The Ohio State University Michael E. Moritz College of Law in 2009. Tony has professional experience in law, government and education.
REGISTRATION
COST: $50 per webinar
Registration for these webinars through the Council of Michigan Foundation's (CMF) website. If you have not already set up an account with CMF, you may do so here prior to purchasing the webinars.