CNJG is pleased to join The Fund for New Jersey and partners for the Imagine More: Racial Justice Begins with Us virtual series. Access to affordable quality healthcare is out of reach for many New Jersey residents. The fifth installment in this series will break down the spectrum of healthcare disparities and seek solutions to remedying the gaps in mental healthcare, maternal health, and environmental health for Black and Brown New Jersey residents.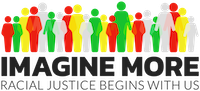 FEATURED SPEAKERS
Dr. Denise Rodgers, Rutgers University
Jesselly De La Cruz, Latino Action Network Foundation
Maria Lopez-Nuñez, Ironbound Community Corporation
Jaye Wilson, Melinated Moms
Moderated by Michellene Davis, The Fund for New Jersey
Cost: Attendance is free and open to all.