Breaking Through in the New Media Paradigm
Every other year, the Council brings together recognized thought leaders from both the philanthropic and nonprofit sectors for a conversation exploring topics of critical interest to the future of the social sector. The 2018 Spring Colloquium will consider the current media landscape and the implications for the social sector.
Industries change…evolve…reform themselves. Media has transformed more rapidly in the past decade than any industry in history. First, digital began upending the traditional news model, diminishing capacity for meaningful coverage. Then came the rise of social, eroding our attention spans and driving more and more of us into newsfeed silos. And now, we have bots. Fake News. Not just media overload, but growing concerns about the presence of actual truth.
What does this new paradigm mean for the Social Sector, where dedicated foundations and nonprofits are working to improve our communities, and foster change? With so much content noise bombarding us all day, how do we make sense of it all, and help our constituents do the same? In this increasingly segregated and untrusting information environment, how do we take best advantage of evolving platforms and technologies, to advance our causes and foster genuine debate around complex issues? How do we break through?
One of the most highly regarded convenings for foundation and nonprofit leaders in the country, the Spring Colloquium will reflect on the rapid changes over the past decade and consider how—in today's challenging environment—grantmakers and nonprofits can get the news they need shared, delivered effectively. Following the discussion, guests will be encouraged to stay and continue "the conversation" with colleagues over lunch. We hope you will join your colleagues from across New Jersey for what is sure to be an important and timely conversation.
MODERATOR
Nicole Collins Bronzan (Bio)
Senior Communications Officer, Robert Wood Johnson Foundation
PANELISTS
Jamie McDonald (Bio)
CEO, Generosity Inc. and TheCourage.Us
Betsy Theobald Richards (Bio)
Director of Creative Strategies, The Opportunity Agenda
Michael M. Shapiro (Bio)
CEO and Publisher, TAPinto.net
CNJG thanks our generous 2018 Conference sponsors: Signature Sponsor PSEG; Contributing Sponsor Campbell Soup Foundation; Gift Sponsor The Horizon Foundation for New Jersey; Program Sponsor FirstEnergy Foundation; Exhibitor Sponsor PKF O'Connor Davies; and Supporting Sponsor Educational Testing Service. We also appreciate additional support from the Robert Wood Johnson Foundation.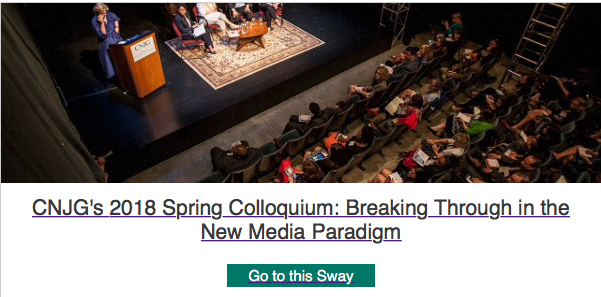 Colloquium Meeting Photos
Colloquium Video


Articles & Websites of Interest
Chronicle of Philanthropy: To Fight Fake News, Philanthropy Must Invest in Helping Citizens Sort Out Truth From Fiction
Inside Philanthropy: Ask the Experts: Foundations Back an Effort to Get Academics Into the Media
Alliance Magazine: The Media Philanthropy Space in 2017
Wall Street Journal: Unilever Threatens to Reduce Ad Spending on Tech Platforms That Don't Combat Divisive Content
First Draft News: New guide helps journalists, researchers investigate misinformation, memes and trolling
Public Data Lab: A Field Guide to "Fake News" and Other Information Disorders
Reuters: Google launches news initiative to combat fake news
NPR: Can You Believe It? On Twitter, False Stories Are Shared More Widely Than True Ones
Chronicle of Philanthropy: Giving Tuesday Founder Henry Timms Injects 'New Power' Into an Old Nonprofit
The Harvard Crimson: Report for America Supports Journalism Where Cutbacks Hit Hard
The New York Times: Harvard, Princeton and Twitter Join Forces to Combat Trolls Online
Chronicle of Philanthropy: Foundations Push Census Turnout in Worrisome Times
Opportunity Agenda: Flip the Script - Activity & Coloring book for Social Justice Communicators
Wyncote Foundation: Investing in Local Journalism, Public Media, and Storytelling: Examples from Place-Based Foundations
Website: Cortico
Website: The Opportunity Agenda
Website: TAPinto
Website: Nonprofit Marketing Guide
Website: Nonprofit Tech for Good
Website: NiemanLab
Website: Public Narrative