CNJG's 2018 Annual Meeting & Holiday Luncheon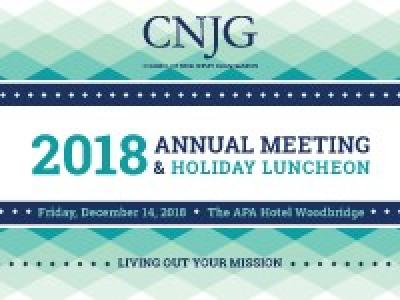 Where:
APA Hotel Woodbridge, 120 S Wood Ave, Iselin, NJ 08830
Add to Calendar
The Council of New Jersey Grantmakers cordially invites you to join staff and trustees representing grantmaking organizations across the state for a signature event for New Jersey's philanthropic community.
This year, we'll focus on "Living Out Your Mission."
A foundation's mission, vision, and values are powerful tools that, when used most effectively, can guide everyday responsibilities, principal decisions, and needed changes. Our pre-meeting workshop and a keynote presentation featuring CNJG members will focus on crucial areas of philanthropies' operations — grantmaking and beyond — to help you live out your mission.
A panel of CNJG members will discuss how their organizations live their mission and vision in areas beyond grantmaking. Panelists will explore how foundations can engage with their communities, tap into their grantees' knowledge, help staff communicate and implement the mission internally and externally, and strengthen board members' ability to champion organizational vision. Representing the breadth of philanthropy in our state, our panel will feature:
Andrew Johnson
Director, Watershed Protection Program, William Penn Foundation
Annette Strickland
Executive Director, The Schumann Fund for New Jersey
Brooke Van Roekel
Director, Brand Engagement, Robert Wood Johnson Foundation
Nelida Valentin
Vice President, Grants and Programs, Princeton Area Community Foundation
Connie Ludwin
CNJG Interim COO and Senior Director, Taft Communications, will moderate the panel.
To help you gain the most from your foundation's core values, CNJG is partnering with PEAK Grantmaking on a pre-meeting workshop where you'll dive deep into how foundation CEO's, program officers, staff, and trustees can engage internally to put values-based grantmaking into practice. You'll hear how foundations can turn their mission statement into an actionable approach to not just help grantees but help themselves thrive.
When everything clicks, grantmaking is just one expression of a foundation's values. In many other ways, you can fulfill your organization's aspirations and promote public confidence in how the philanthropic sector fulfills its critical work.
AGENDA
8:30 a.m. to 9:45 a.m.  New Member Orientation
10:00 a.m. to 11:30 a.m.  Pre-Meeting Workshop: "Walking the Talk: Putting Values-Based Grantmaking into Practice"
11:30 a.m. to 12:00 p.m.  Networking and Registration
12:00 p.m. to 2:30 p.m.  Luncheon and Business Meeting
New Member Orientation
An optional breakfast for new CNJG members or new-to-CNJG staff/Trustees. Please register separately.
Pre-Meeting Workshop: "Walking the Talk: Putting Values-Based Grantmaking into Practice"
Presented by Michelle Greanias, Executive Director of PEAK Grantmaking
Translating values such as leadership, collaboration, inclusion, and innovation into practice can be a challenge for grantmakers. During the pre-meeting workshop, Michelle Greanias from PEAK Grantmaking will take us through real-life scenarios, ask critical questions, and provide useful tools to examine internal practices. At the workshop you'll be able to develop your own action plan for bringing your foundation closer to "walking the talk."
CNJG is partnering with PEAK Grantmaking to provide value-based grantmaker education as a three-part series that begins with the 2018 Annual Meeting and Holiday Luncheon's pre-meeting workshop, and continues in early 2019 with two webinars, Incorporating Foundations' Top Values into Practice on January 17th and Learning for Impact on January 31st. Registration is now open for both webinars.
REGISTRATION INFORMATION
Workshop & Luncheon: CNJG Members $100, Non Member Grantmakers $200
Luncheon Only: CNJG Members $85, Non Member Grantmakers $145
Workshop Only: CNJG Members $35
Online registration closes on December 12th at 5:00 p.m.
Walk-in registrations are welcome but payment must be made by cash or check.
We are pleased to offer this forum for grantmakers only.
Signature Sponsor
Sustaining Sponsor
Gift Sponsor
Program Sponsor

Performance Sponsor