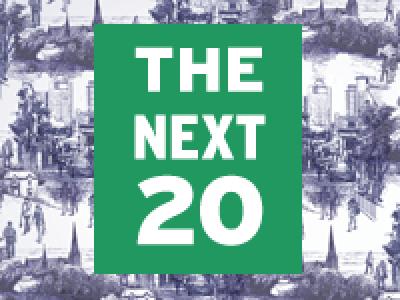 Where:
The Palace at Somerset Park, 333 Davidson Avenue, Somerset, NJ 08873
Add to Calendar
CNJG's biennial Spring Conference remains one of the most valuable learning and peer networking events in the state. This year was no exception as we came together to learn and explore the changes facing New Jersey and the evolving roles and practices for foundations and nonprofits. The daylong gathering featured cutting-edge innovators, seasoned leaders, visioning for the future, and more. And it acknowledged how the players and practices within the social sector are changing at a rapid pace. From Go Fund Me to social ventures, impact investing to crowdsourcing, the implications for funders and grantee partners are complex.
For the social sector to continue to be effective and prepared, a united, collaborative community is essential, and funders and nonprofits need a robust understanding of what is on the horizon. The Spring Conference considered much of New Jersey's current landscape and offered a view into what can be expected. In the afternoon, participants came together to collectively consider what it means for the issues they care about, so that they can prepare and respond effectively.
The Conference featured multiple plenary, shared learning experiences where guests jointly explored the changing environment in which the community works. Through the Conference, CNJG hopes to generate and strengthen collaborative thinking to foster greater collective action. #CNJGNext20 was the road to social media postings.
AGENDA
Opening Plenary: Setting the Table - Key Trends on NJ's Horizon - View Presentation
A quick tour of coming trends and the future we may see will provide attendees with an overview of what seems to be on the horizon.
Presenter: Nina Stack, President, Council of New Jersey Grantmakers

Morning Session I: What is Coming – The Rise of the Disruptors
Five recognized and highly innovative New Jersey-based social entrepreneurs who break the molds and inspire, pitched bold ideas for the social sector to embrace for our future.
Presenters:
Robert Clark, Founder and Executive Director, YouthBuild Newark (Bio) - View Presentation
Alfa Demmellash. CEO/Co-Founder, Rising Tide Capital (Bio) - View Presentation
Emma Canarick, Director of Capacity Building, The Atlantic Foundation - View Presentation
Carlos M. Rodriguez, Executive Director, Fulfill (Formerly The FoodBank of Monmouth and Ocean Counties) (Bio) - View Presentation
Evan Sanchez, Co-Founder, Authentic City Partners (Bio) - View Presentation

Morning Session II: Sharing Wisdom – Insights from NJ Social Sector Leaders - View Presentation
Offering context and informed perspective, a panel of experienced New Jersey leaders considered what our state's needs will be and the essential role of the social sector.
Moderator: Jon Shure, Senior Director, Taft Communications, LLC (Bio)
Presenters:
Jun Choi, Former Mayor, Edison Township/Chair of the Board of Trustees, New Jersey Policy Perspective)(Bio)
Linda M. Czipo, President and CEO, Center for Non-Profits (Bio)
George A. Pruitt, President, Thomas Edison State University (Bio)
Nancy Solomon, Managing Editor, WNYC/New Jersey Public Radio (Bio)
Jeffrey M. Vega, President and CEO, Princeton Area Community Foundation (Bio)

Luncheon Keynote: The Linchpin – Why the 2020 Census Matters So Much - View Presentation
Accurate census data is essential for the fair distribution of political representation at the national, state, and local levels, and for the equitable allocation of government, business, nonprofit and philanthropic resources. Given how critical the 2020 Census will be to our work and the communities we care about, foundations and nonprofits in New Jersey need to engage to ensure a fair and accurate count.
Speaker: Alexis Anderson-Reed, Deputy Director, Funders' Committee for Civic Participation (Bio)

Afternoon Session: Building A Shared Vision – Co-Creating Solutions
Utilizing Open Space Technology, this session crowdsourced ideas and collaboratively identified strategies to advance the social sector in New Jersey's changing landscape.
Facilitator: Elizabeth A. Murphy, President, The Murphy Group, Inc. (Bio)

Closing Plenary: Where Opportunity Lies
Building on the ideas generated through the Shared Vision session, the closing discussion responded to and identified key opportunities.
Panelists:
Michellene Davis, Executive Vice President and Chief Corporate Affairs Officer, RWJBarnabas Health (Bio)
Hans Dekker, President, Community Foundation of New Jersey (Bio)
Jon Shure, Senior Director, Taft Communications, LLC (Bio)
Nina Stack, President, Council of New Jersey Grantmakers
CNJG thanks our generous 2017 Conference sponsors: PSEG; Champion Sponsor - JPMorgan Chase & Co.; Spotlight Sponsor – Taft Communications; Connector Sponsor – FirstEnergy Foundation; Colleague Sponsors – Campbell Soup Company, The Horizon Foundation for New Jersey, U.S. Trust; Exhibitor Sponsors: Glenmede, PKF O'Connor Davies; Venue Sponsor – The Palace at Somerset Park.
Conference Photos
View the story - "The Next 20: People, Places, Perspectivess"
Articles of Interest
Trump's Threat to the 2020 Census
Without More Census Funding, Disadvantaged Communities Risk Being Overlooked Most
U.S. Census director resigns amid turmoil over funding of 2020 count
Census Bureau Chief Suddenly Announces Resignation
Why Did the U.S. Census Director Resign?
How Will The Rise Of Crowdfunding Reshape How We Give To Charity?
10 demographic trends shaping the U.S. and the world in 2017
Resources:

The Next 20 Trends Tour - Nina Stack.pdf

What is Coming - Robert Clark Presentation.pdf

What is Coming - Alfa Demmellash Presentation.pdf

What is Coming - Carlos Rodriguez Presentation.pdf

What is Coming - Evan Sanchez Presentation.pdf

Why the 2020 Census Matters So Much Presentation.pdf

2017 CNJG Conference Sponsorship Package.pdf

Alexis Anderson-Reed Bio.pdf

Jun Choi Bio.pdf

Robert Clark Bio.pdf

Linda M. Czipo Bio.pdf

Michellene Davis Bio.pdf

Hans Dekker Bio.pdf

Alfa Demmellash Bio.pdf

John Johnson Bio.pdf

Elizabeth A. Murphy Bio.pdf

George A. Pruitt Bio.pdf

Carlos M. Rodriguez Bio.pdf

Evan Sanchez Bio.pdf

Jon Shure Bio.pdf

Nancy Solomon Bio.pdf

Jeffrey M. Vega Bio.pdf

The Murphy Group, Inc..pdf