CNJG's 2015 Annual Meeting & Holiday Luncheon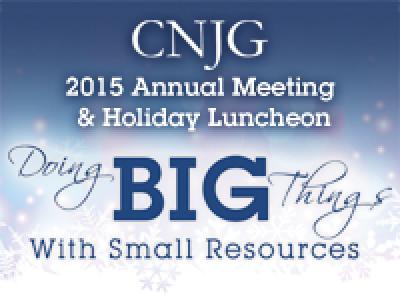 Where:
The Heldrich Hotel, 10 Livingston Avenue, New Brunswick, NJ
Add to Calendar
The Council of New Jersey Grantmakers cordially invites you to join staff and trustees representing grantmaking organizations across the state for a signature event for New Jersey's philanthropic community.
This year's meeting will feature Bill Somerville, author of Grassroots Philanthropy, and Founder of Philanthropic Ventures Foundation, who will speak on "Doing Big Things with Small Resources." Mr. Somerville brings over 50 years of experience in nonprofit work, including 17 years as Executive Director of the Peninsula Community Foundation in California. His book, published in 2008 is a guide to decisive, hands-on grantmaking, to energize and motivate individual donors, foundation grantmakers and nonprofit leaders alike.
AGENDA
9:30 a.m. to 10:00 a.m.  Networking and Registration
10:00 a.m. to 11:30 a.m.  Pre-Meeting Workshop
11:30 a.m. to 12:00 p.m.  Networking and Registration
12:00 p.m. to 2:15 p.m.  Luncheon and Business Meeting
Our pre-meeting workshop will be a hands-on demonstration of the newly created Foundation Center mapping project, entitled "Get On the Map" for New Jersey. Jeannine Corey, Director of Grants Information Management at the Foundation Center, will demonstrate the power of this new mapping tool that enables the philanthropic community to see the scope of the grantmaking in New Jersey, find funding partners, and have a deeper understanding of the philanthropic landscape in New Jersey. When you register, we will ask you what you want to see demonstrated live on the "Get on the Map" website at this workshop. Examples might be "arts grants in Camden, or "all recipients of health grants".
CNJG sincerely thanks our 2015 Annual Meeting Sponsors: Novartis - Signature Sponsor; Prudential Foundation - Sustaining Sponsor; Novo Nordisk - Gift Sponsor; and New Jersey Health Initiatives and The Provident Bank Foundation - Supporting Sponsors.
---
Annual Meeting Photos