Site Search
Publication Date:
December, 2008
Learn how to help victims of disasters in ways that comply with federal tax rules that apply to charitable organizations from the Internal Revenue Service.
Publication Date:
December, 2012
Disaster relief information and resources for funders or individuals who want to support organizations responding to Hurricane Sandy.
Publication Date:
June, 2006
The Quality of Life Through End-of-Life Care Issue Brief is full of suggestions to support end of life and palliative care efforts.
Our complete membership dues packet.
Building upon the successful Coastal Communities Site Visit Tour offered to the philanthropic community in February, the Council of New Jersey Grantmakers is pleased to offer a similar program focusing on communities in northern New Jersey – specifically the hardest hit areas in Essex, Hudson and
Publication Date:
October, 2014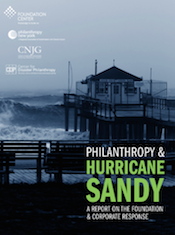 This new report from CNJG and partners examines the response of foundations, corporations, and other institutional donors to the devastation wrought by Hurricane Sandy in October 2012. Numbering nearly 600, these funders have so far committed more than $380 million for relief, recovery and building efforts. The hard data and reflective observations in the report contribute to the growing body of knowledge that helps foundations and corporations be strategic and effective with their giving when disaster strikes.
Join your grantmaking colleagues from across the state for a timely conversation about emerging trends for immigrants in New Jersey, philanthropy and our shared prosperity.
The Jon Bon Jovi Soul Foundation invites members of the Council of New Jersey Grantmakers to a special briefing to present a model collaboration of three nonprofit partners -- the JBJ Soul Foundation, The FoodBank of Monmouth and Ocean Counties, and Peoples Pantry. These three partners are coming together to create a community resource hub in Ocean County where families and individuals in need can access food, job training and other resources that will help to end the cyclical causes of hunger.
Publication Date:
January, 2012
Find key terms frequently used to describe philanthropy in this glossary developed by the Forum of Regional Associations of Grantmakers.
Join us for a webinar with representatives from the Hurricane Sandy New Jersey Relief Fund (HSNJRF) and New Jersey Community Capital (NJCC) to learn how private funders can significantly leverage their grantmaking and help impacted families.
Responding Post Sandy: Philanthropic Relief & Recovery
Publication Date:
December, 2012
Issue-oriented resource guides for funders dealing with the aftermath of a disaster.
Publication Date:
November, 2012
Best practice guides for funders responding to disaster relief.
This weekly call series started on November 5, 2012 and continued through March 25, 2013.